If you log into the Xpert-Timer system using the "XTADMIN" user, you have some more functions available in the system than a normal user. XTADMIN is limited to administrative functions. The user cannot log time, so don't try to save a license and use this user instead...you'll run into problems.
Anyways, as soon as you've logged in as "XTADMIN" (the standard password, if the administrator has not changed it, is xtadmin) you can find an additional menu button in the "View" menu of your timestamp list.

If you click on the button, a hint will open: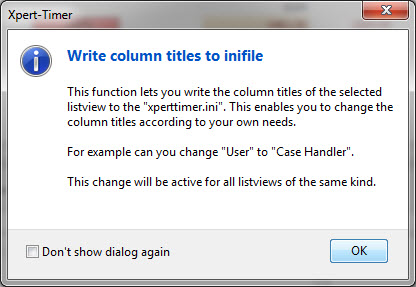 Then the .ini file will open. Find the following section. Then replace the column names with the ones you want. After you save the .ini file and restart the program, the new column headers will be displayed.